If you hear any of these buzzwords, beware. Read below to learn more.
Unfortunately, Bangkok suffers from a reputation for the shady business practices of certain establishments. To help you select a tailor and to guarantee that you get a great product at a fair price, we've put together a guide with the most common issues.

EGYPTIAN COTTON
"Egyptian cotton" is a common phrase you will hear in Thailand, but very few tailors actually stock it. It is always milled in Europe, and your tailor should tell you the name of it's mill (which can be Googled). Egyptian cotton is branded and it's brand label will always be sewn into your shirt. If this is not the case, the fabric is not Egyptian cotton and it is almost certainly from China or Thailand. Egyptian cotton is never 44" wide and never comes on tubular rolls. If your tailor shows you these, you know that the fabric is either from Thailand or Japan, and certainly not from Europe.



WOOL/CASHMERE
Wool/Cashmere fabrics are always milled in Europe. If your tailor is offering you these, the name will be on the fabric selvedge (writing on the edge of the fabric) and the fabric will always come with a corresponding label of authenticity to be sewn into your garment. Cashmere is always sold in percentages, so your tailor should be able to tell you the exact percentage (ex. 3%, 6%). If any of this is not the case, the fabric is not wool/cashmere and it is not European. It is almost certainly of Chinese origin and your tailor is not being honest about it's quality.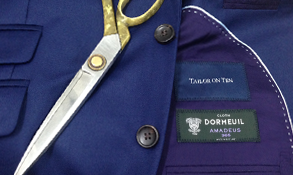 ITALIAN/ENGLISH ORIGIN
Fabrics from Italy and England are always branded. They are the highest quality and most sought after fabrics, and therefore, often emulated by other mills (Chinese, Japanese, Thai). Your tailor should tell you the name of the mill which you can, in turn, Google. European fabrics will always come with a branded label of authenticity that will be sewn into your shirt or jacket. If it's a suiting, the selvedge will carry the name of that same mill. If any of this is not the case, the fabric is not of Italian or English origin and your tailor is not being honest with you.
IN-HOUSE TAILORS
The Thai tailoring industry has developed to cope with extreme variations in demand due to high and low seasons, as well as rushed turnaround times. The "tailors" that sell products are purely shop fronts, dealing only with fabrics and taking measurements. These are subsequently sent to independent factories – sweatshops, if you will – and the work is paid per piece. While cost efficient for the shop fronts, this system has some fundamental flaws.


If you go to a tailor that DOES NOT have in-house tailors, it will lead to:




NO PRODUCTION CONTROL
The shop has no influence over how the garment is constructed. This limits customizations and means a complete lack of control regarding the construction components.



RUSHED WORK
Because the tailors are paid for piecework, they have an incentive to rush through production, especially during high season. This causes poor workmanship.



NO CONSISTENCY
Different sweatshops are used depending on availability, all working slightly differently, so you'll often get variations in construction and sizes, even within the same order.



POOR WORKING CONDITIONS
Incomes are unstable, and knowing that customers will never see them, factories are set up with objectionable work environments and working hours.